Bizzour Decor
Regular price
Sale price
$12.99 USD
Unit price
per
Sale
Sold out
Bring summer warmth to your home with Peach Divine candle. A blend of peaches, coconut, and citrus creates a sweet and fruity scent. Enjoy memories of summer days with every burn.
• Hand-Poured in Texas
•  Deluxe Satin Soy Wax
• Made from soy and food-grade paraffin in the USA 
Candle Care
We recommend always burning the candle within sight and away from drafts and things that can catch fire. Keep away from children and pets. Never leave candle unattended.
Trim wick to 1/4 inch before lighting every time. Do not burn longer than 4 hours. Stop burning when 1/2 of unmelted wax remains.
Share
Care Information

About our Candles

We use our deluxe satin soy wax which is gluten-free, toxin-free, paraben, and phthalate-free.

Made from soy and food-grade paraffin in the USA.

Clean burning and slightly golden but with a glossy finish.

 Our mini mason jars are high-temperature resistance and accompanies by airtight lids.

Our ECO wick is constructed from natural flat cotton threads interwoven with paper threads that produce a rigid structure for easy pouring. The consistent flame and slight curl of ECO wicks work well with natural waxes and ensures an even burn. ECO wicks are lead and zinc-free.

Candle Care

We recommend always burning the candle within sight and away from drafts and things that can catch fire. 

Burn within sight: A reminder to keep an eye on all burning candles, and extinguish a candle before leaving a room.

Keep away from combustibles: A cue to pay attention to your surroundings. Keep burning candles away from  furniture, drapes, bedding,vents,ceiling fans,air currents, carpets,books, paper, and other flammable objects.

Keep away from children: Make sure your candles are placed up high and unreachable to children and pets

Trimming your wick tips is an important part of maintaining your candle. To ensure that your candle burns evenly and safely, you should trim the wick to about ¼ inch before lighting it each time.

To do this, you can use wick trimmers, scissors, or even a nail clipper. After you have extinguished your candle, wait until the wax has cooled and hardened before trimming the wick again. This will help to ensure a better burning experience for each use.

 

Room/Linen Base ingredients: 

This eco-friendly air care solution is VOC-Free, Non-Toxic, and Vegan. It includes natural ingredients like RO/DI Water, DEG Monobutyl Ether, and enzymes. No preservatives needed.

Room/Linen Spray Tips:

Using room/linen spray can be a great way to create a pleasant atmosphere in your home. Here are some tips to get the most out of your spray:

1. Make sure to test the spray in an inconspicuous area of the fabric you're using it on to make sure it won't cause discoloration or damage. 

2. When spraying on textiles, make sure to hold the bottle at least 12 inches away and spray lightly in a sweeping motion. 

3. To eliminate odors, spray into the air and onto surfaces such as carpets, couches, and curtains. 

4. Spraying into the air can also help to freshen and purify the air in your home. 

5. Don't forget to spray any bedding or linens you're using, as this will help them to smell fresh and inviting. 

6. To ensure your spray lasts longer, make sure to store it in a cool, dry place away from direct sunlight.

 

Wax Melt Tips:

Place wax melts in an appropriate wax warmer.

Keep wax melts out of reach of children and pets.

Be sure to use a wax warmer that is designed for wax melts.

Do not add water or any other liquid to wax melts.

Be sure to turn off the wax warmer when not in use.

Keep wax melts away from any flammable objects.

Monitor the wax warmer while in use.

Do not leave wax melts unattended while burning.

Do not use wax melts near an open flame.

Discard wax melts when they are completely melted.

 

How to clean a wax warmer:

Cleaning a wax warmer is easy and simple! First, turn off the wax warmer and let it cool off.

Then, use a cloth to wipe off any excess wax that may be on the surface. If there is still wax left after wiping, try using a paper towel and some rubbing alcohol to remove it. Finally, clean the inside of the warmer with a damp cloth and some mild soap. Allow the warmer to dry completely before you use it again.

 

Recycle options:

Please remove the label, wick, and clean the vessel before reuse. 

You can always use the vessel as a sample bottle, you can store lotion, powder, cotton balls, and jewelry.

Please email us at support@bizzourdecor.com for any questions.

 

 

 

 
Shipping

We are pleased to offer domestic shipping within the United States for all of our products. Your order will be processed in the order it was received, and it typically takes 1-2  weeks for us to ship your package.

Once we have created a shipping label for your order, you will receive a tracking number via email. If you have any concerns or questions about your shipment, please don't hesitate to reach out to us and we will be happy to assist you."

 

Email: support@bizzourdecor.com
Returns & Refunds

Welcome to Bizzour Decor! We're glad you've chosen to shop with us. If there's an issue with your order such as a damaged product or incorrect item received, please reach out to us within 24 hours. We're here to make things right and ensure your satisfaction.

Please note that only exchanges are accepted and a receipt will be required. If you have any questions or concerns, don't hesitate to contact us at support@bizzourdecor.com. Our customer service team is dedicated to helping you have a pleasant shopping experience. Thank you for choosing Bizzour Decor!
View full details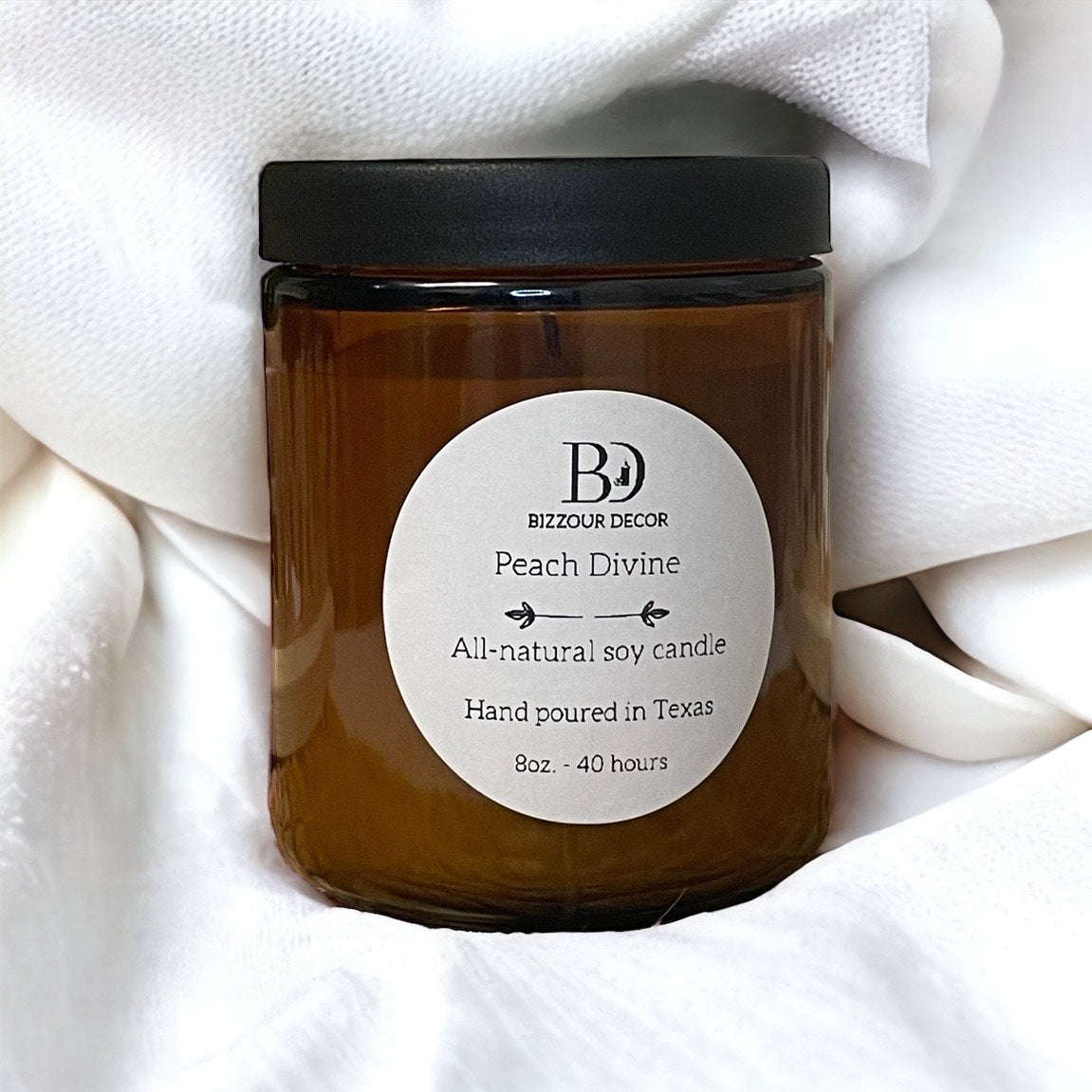 Favorite Candle
This is my favorite candle I am on my fourth candle and I will be getting more. This candle is definitely worth the buy.
Love This Candle! Must Buy!!
I love fruity scents, and this one is perfect. I love how the scent fills the room and it's not too potent to where it gives you a headache. I can't wait to try more! I definitely recommend everyone to give this candle a try!
Buy it, you wont regret it
Haven't tried all the scents yet, but so far this is my favorite! This candle has literally changed my life because Im obsessed, I need one in every room!!
Great candle!
I bought this at the farmers market and have used it in my office while working. It really smells great and I've got a good half of it left!
a vibe
not only is this candle a cute decor piece for my table, it smells great too!